5th October 2014
Congratulations to Luba and Stefan who both won a gold and silver medal each at the JKS Ireland Open Championships in Santry.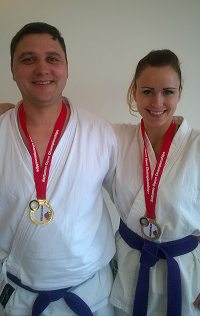 Luba won gold in kumite and silver in kata. Stefan won gold in kata and silver in kumite.
There were competitors from all over Ireland and from Scotland at the event hosted by JKS Ireland Chief Instructor sensei Dermot O'Keeffe.
It is a great honour for SVJ Karate Club to have done so well against such strong competition. We look forward to fielding a team for the SKIF Piltown competition next February.